Image © The Sacramento Bee
---
Viewpoints: Plan to close UC Center seems ill-advised
Published November 13, 2009
Twenty-five University of California students and graduates from UC campuses were gathered around a long table in a windowless basement conference room in downtown Sacramento for a brown-bag lunch. On one side were 10 recent graduates, many working in and around the Capitol, who had participated in a popular public policy program – a program they say prepared them more than any other college experience for the realities of working in politics and public policy.
State Hospital Reporting
Award-winning coverage of conditions in state hospitals, 1974-78.
Was Boy Beaten at Hospital? (PDF)
Health Official Gnaizda Makes Surprise Visit To State Hospital (PDF)
Probe Reveals More "Mismanagement" In Stockton Hospital (PDF)
Study Of Patient Funds Looms At Stockton Hospital (PDF)
Report Shows State Hospital Patient Died After Drug, Data Were Mislaid (PDF)
San Joaquin Coroner Reopens Probe Of State Hospital Death (JPEG)
State Probes Possible Embezzlement At Stockton Mental Hospital (JPEG)
Health Care Probe In Stockton Prompts Prescription For Change (JPEG)
Stockton Hospital Employe Transfer Called Warning Against Criticizing Administrators (JPEG)
Stockton State Hospital Probe Imperils Medical Chief's Job (JPEG)
Stockton Hospital Probe Demanded (JPEG)
Official Vows State Will Not Allow Cover-Up At Hospital (JPEG)
Stockton State Hospital Child Abuse Charges Are Probed (JPEG)
Why They Died; Hospital Probe Shows Carelessness But Few Crimes (PDF)
Death Coverup; How Did Retarded Youth Die? Truth Cloudy 4 Years Later (PDF)
Hospital Debate: Who, Why, How? (PDF)
State Mental Hospitals Leave Painful Visions Of Horror (PDF)
Mental Hospital Deaths – 36 Are "Highly Suspicious" (JPEG)
"Human Zoos" … MD Condemns State Hospitals (PDF)
A Girl And Her Family: Story Of Success In A State Hospital (PDF)
Children In Peril… State Mental Health Services Inadequate (PDF)
'Monster' Falls… In Mental Hospital Sweep (JPEG)
11 Temporary Appointments To State Mental Care Facilities (JPEG)
DAs Will Review 158 Hospital Deaths (JPEG)
Data On 158 Hospital Deaths Will Go To Local Prosecutors (JPEG)
Death Of LA State Hospital Patient Brings Charges Against Technician (JPEG)
Drug Limits Ordered In State Hospitals (JPEG)
Teen's Death Renews Hospital Controversy (JPEG)
Doctors' Course In Drug Abuse (JPEG)
New Disclosures of Patient Deaths Intensify State Hospital Tragedy (JPEG)
Hospital Probers Report (JPEG)
Brown Boosts State Hospital Staffs By 1,000 (JPEG)
Procunier Says At Least One Patient Death Could Result In Prosecution (JPEG)
State Hospital Probe… 1,000 Deaths, Few Prosecutions Likely (JPEG)
United Parents Lighting Up Darkness To Aid Retarded (PDF)
Juvenile Crime Reporting
CYA Director Allen Breed (PDF)
Juvenile Crime (PDF)
CYA Officials Fear Youth's Killing Was Gang-Related (PDF)
Foster Care Reporting
Award-winning coverage of foster care conditions, 1979-80.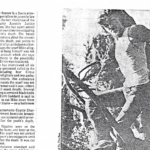 Why Did He Die? Teenager's Lonely Journey Through 10 Institutions (PDF)
Published February 12, 1980
---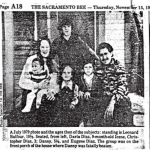 Ugly Death of California Boy, 6, Prompts Closer Look at Foster (PDF)
Published November 14, 1979
---
Personal Articles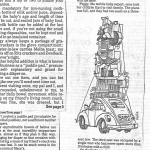 Have baby, will travel (PDF)
Published March 23, 1978
---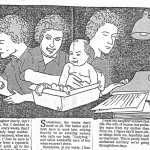 Growing Into The Mantle of Motherhood (PDF)
Published March 13, 1978
---